Home
Join us at the upcoming 5th Opportunity Crudes Conference

---
---
PDVSA ups crude exports to US in May. 2016-06-24
Exports of Venezuelan crude to the US rose 3.7% in May from April levels to 762K b/d, marking the first month-on-month increase in Venezuelan crude exports to the US this year due. The decline in exports that started...
Rystad: plenty of wells are waiting to be fracked. 2016-06-24
Accord to Rystad Energy's latest analysis, there are about 3.9K drilled but uncompleted (DUC) horizontal oil wells in the US, with more than 90% of them in the country's biggest liquids plays. Rystad estimates that there...

---
Heavy crude OSPs soar into summer. 2016-06-08
Official Selling Prices (OSPs) for select heavy grades were set significantly higher for June, largely up for the third straight month. The outright prices for Indonesian Duri also climbed during April...

In order to reduce fuel oil, natural gas, and fuel gas consumption along with a reduction in CO2 emissions, some refiners are
...
Read more
Futures prices
---
Prices below are settled prices at the end of yesterday or last trading day
Popular Articles:
Oilsands to continue expanding, defying expectations. 2016-06-23
Canadian wildfires cost oilsands dearly. 2016-06-22
Suncor's MacKay operation gets stuck. 2016-06-21
Bankruptcies leading proven shale reserves to disappear. 2016-06-23
US shale to continue to wane in July. 2016-06-22
Peru to get a taste of US crude 2016-06-21

US coking, cracking margins up for second straight month. 2016-06-08
Coking and cracking margins on the Gulf Coast and in the Midcontinent strengthened for the second month...
White papers
As discussed in Part 1 of this paper published earlier, declining crude prices encourage more spot purchases...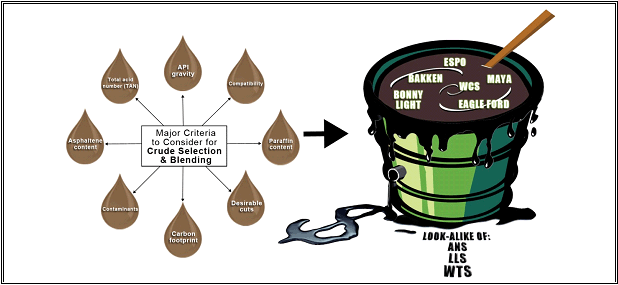 ---
Market Insights
Once again, OPEC members have decided against an output ceiling, choosing instead to prioritize market share over crude prices that may be outside their ability to influence anyway. In contrast to the Dec. meeting six months ago, when tempers flared as Saudi Arabia......
Read more
---
Trends and Statistics
As shown in Table 1b, the recoverable resources and current production of tight oil and shale gas in the......
Read more
---