Home
Join us at the upcoming 5th Opportunity Crudes Conference
---
---
Pass the peace pipe. 2016-09-27
Suncor Energy is going to build tanks with indigenous group—how 'bout a pipeline? Canada's biggest oil company announced on Sept. 6 that it had signed a deal with Fort McKay First Nation, selling a 34.3% stake...
US shale oil exports pivot to Asia. 2016-09-27
According to a survey of five Asia-based industry sources, widespread exports of US crude to Asia will become feasible when the spread between ICE Brent and WTI futures moves above $3.00/bbl. While the spread is currently at just $1.45/bbl...

---
Heavy crude OSPs mixed for Sept. with Arabian down, Basra up. 2016-09-15
Official Selling Prices (OSPs) for select heavy grades are varied for Sept., with Mexican Maya and Iranian Heavy nearly steady, but others posting volatile moves. Arabian Heavy's OSP was set sharply lower for the month...

In order to reduce fuel oil, natural gas, and fuel gas consumption along with a reduction in CO2 emissions, some refiners are
...
Read more
Futures prices
---
Prices below are settled prices at the end of yesterday or last trading day
Popular Articles:
NEB panel steps down amid conflict-of-interest allegations. 2016-09-26
Venezuela's crude exports to US and Cuba continue to decline. 2016-09-21
Game (crude) changer. 2016-09-14
US shale output to edge lower in Oct.—except the Permian. 2016-09-26
US condensate splitters kept afloat by contracts. 2016-09-23
Earthquakes in Oklahoma are not ok. 2016-09-22

US coking margins tepid on USGC, drop in Midcon. 2016-09-15
Coking and cracking margins were mostly flat-to-lower on the Gulf Coast in July. Coking margins remained elevated, but trending downward, while cracking profits were relatively weak but inching up...
White papers
As discussed in Part 1 of this paper published earlier, declining crude prices encourage more spot purchases...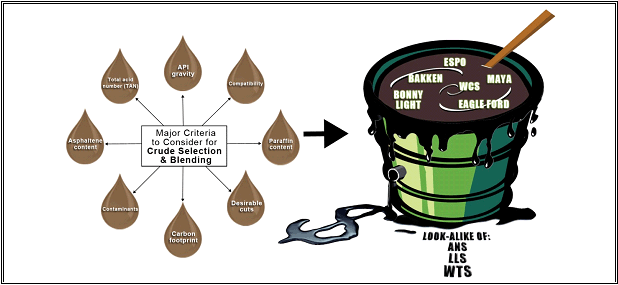 ---
Market Insights
Crude market rout since in mid-2014 because of excessive supply has come to a full cycle. Simply put it, abundant supply → lowering prices → better refining margins → increasing throughput → driving up crude prices, fuel in oversupply → reducing refining profits →...
Read more
---
Trends and Statistics
As shown in Table 1c, the recoverable resources and current production of tight oil and shale gas in the......
Read more
---