Home
Join us at the upcoming 5th Opportunity Crudes Conference

---
---
Oilsands infrastructure expansion lags behind production expansion. 2016-07-22
Little progress has been made on building out export infrastructure in Canada, however, and traders expect that Western Canada Select—already at a $15/bbl discount to WTI—may slip another $2-3/bbl against the US benchmark...
US shale is resilient and price competitive too. 2016-07-25
According to a new report from the Edinburgh-based consultancy, US shale producers have made exceptional progress in cutting their costs, and are now among the most competitive investment options worldwide for oil producers...

---
Heavy crude OSPs continue to climb. 2016-07-13
Official Selling Prices (OSPs) for select heavy grades were set higher in July (and June for Maya), mostly continuing an upward trend that commenced in April. The OSP for Arabian Heavy climbed above the...

In order to reduce fuel oil, natural gas, and fuel gas consumption along with a reduction in CO2 emissions, some refiners are
...
Read more
Futures prices
---
Prices below are settled prices at the end of yesterday or last trading day
Popular Articles:
CNOOC idles Long Lake upgrader. 2016-07-21
Canadian oilsands production growth unabates. 2016-07-19
Roadblocks are piling up for Northern Gateway. 2016-07-15
Utica shale permitting slows down. 2016-07-22
Mexican shale looks good—geologically, at least. 2016-07-21
Brexit vote could be boon for British shale development. 2016-07-20

US coking, cracking margins fall on Gulf Coast, climb in Midcon. 2016-07-13
Coking and cracking margins in May were split between the Gulf Coast and the Midcontinent...
White papers
As discussed in Part 1 of this paper published earlier, declining crude prices encourage more spot purchases...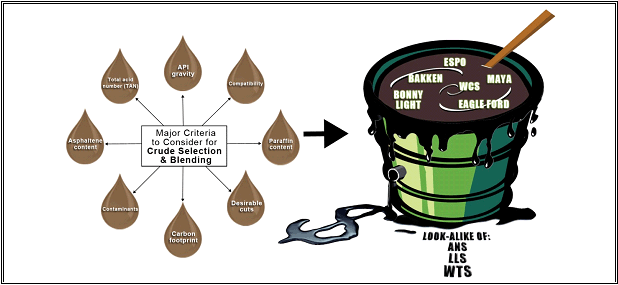 ---
Market Insights
Once again, OPEC members have decided against an output ceiling, choosing instead to prioritize market share over crude prices that may be outside their ability to influence anyway. In contrast to the Dec. meeting six months ago, when tempers flared as Saudi Arabia......
Read more
---
Trends and Statistics
As shown in Table 1c, the recoverable resources and current production of tight oil and shale gas in the......
Read more
---