Home
---
---
US firms step up imports of Venezuelan resid. 2017-02-22
According to data from the US Energy Information Administration (EIA), US imports of residual fuel from Venezuela have risen to 5.31MM bbl over...
DAPL is a sure bet. 2017-02-27
On Feb. 13, a US district court denied a request by Native American groups for an injunction to temporarily halt the construction of the Dakota Access pipeline...

---
Heavy crude OSPs jump into the New Year. 2017-01-16
Official Selling Prices (OSPs) for select heavy grades mostly rose in Jan., with Iranian Heavy and Iraq's Basra Heavy posting sharp rebounds. Arabian Heavy continued to gradually climb, while Mexican Maya slipped slightly, following a spike in Dec...
---

In order to reduce fuel oil, natural gas, and fuel gas consumption along with a reduction in CO2 emissions, some refiners are
...
Read more
Futures prices
---
Prices below are settled prices at the end of yesterday or last trading day
Popular Articles:
Keystone XL: TransCanada may have a second thought. 2017-02-20
Syncrude output to fall amid maintenance. 2017-02-14
New pipeline to improve OK crude connectivity. 2017-02-13
Devon, MRO to increase shale investments this year. 2017-02-23
Growth spurts: Tight oil to plateau from mid-20s. 2017-02-22
Dakota Access gets green light. 2017-02-21

US coking, cracking margins continue downward in Nov. 2017-01-16
Coking and cracking margins fell in the Gulf Coast and Midcontinent regions in Nov., with the Midcon witnessing an ongoing rout. On the Gulf Coast, margins posted small-to-moderate declines, with coking showing the larger drops...
White papers
As discussed in Part 1 of this paper published earlier, declining crude prices encourage more spot purchases...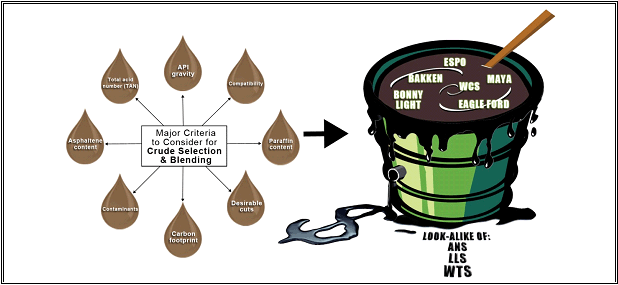 ---
Market Insights
According to a report from
Wood Mackenzie
, "2016 will prove to be the low point in the investment cycle," with major producers turning cash flow positive next year provided crude prices above $55/bbl are sustained....
Read more
---
Trends and Statistics
The table below shows the list of major shale plays in...
Read more
---