Home
Join us at the upcoming 5th Opportunity Crudes Conference
---
---
Venezuela eyes on China and India for export opportunities. 2016-08-26
According to Eulogio Del Pino, head of state oil company PDVSA, China is the key growth market for Venezuela. The company expects to increase shipments of crude to China from 600K b/d at present to 1MM b/d "within the next few years."...
Pass the (peace not oil) pipe. 2016-08-29
Protestors block Dakota Access line in the US state of North Dakota. Sources say environmentalist and Native American groups have halted work on Dakota Access pipeline, blocking access to a construction site near Mandan, North Dakota...

---
Heavy crude OSPs are set lower in Aug. 2016-08-16
Official Selling Prices (OSPs) for select heavy grades fell in Aug., following month-to-month increases that had commenced in April. While most OSPs were set marginally lower, Iraq's Basra Heavy sharply dropped...

In order to reduce fuel oil, natural gas, and fuel gas consumption along with a reduction in CO2 emissions, some refiners are
...
Read more
Futures prices
---
Prices below are settled prices at the end of yesterday or last trading day
Popular Articles:
Venezuela's output: a diving event. 2016-08-23
Help wanted: Canadian oil pipelines. 2016-08-22
Iraq plans to ramp up exports in Sept. 2016-08-19
Feds, environmental groups appeal fracking decision. 2016-08-26
ND output slips toward 1MM b/d, B/E price as low as $16/bbl. 2016-08-25
EPA advisor takes agency to task for fracking report. 2016-08-24

US coking margins inch up on Gulf Coast; jump in Midcon. 2016-08-16
Coking and cracking margins climbed in June on the Gulf Coast and in the Midcontinent, but to different degrees. After dropping in May...
White papers
As discussed in Part 1 of this paper published earlier, declining crude prices encourage more spot purchases...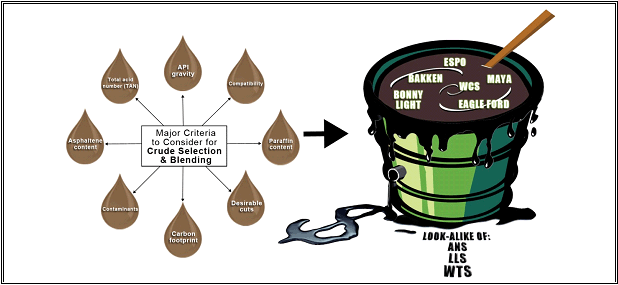 ---
Market Insights
Crude market rout since in mid-2014 because of excessive supply has come to a full cycle. Simply put it, abundant supply → lowering prices → better refining margins → increasing throughput → driving up crude prices, fuel in oversupply → reducing refining profits →...
Read more
---
Trends and Statistics
As shown in Table 1c, the recoverable resources and current production of tight oil and shale gas in the......
Read more
---