Home
Watch the Opportunity Crudes Management Seminar (OCMS) series:
"Do you have the right stuff (crude cuts)? - Part 1. Crude Selection" in September 2017.
Click here.
Opportunity Crude Management Seminar (OCMS)
Come to check out our 45-minute tutorial videos on challenges and opportunities of processing opportunity crudes or price-advantaged crudes
Provide the latest information and insightful knowledge that allows you to make better and informed decisions at work
The OCMS series is free-of-charge, but registration is required. Sign up today by clicking here
In the seminar, we discuss Global Crude Market, Crude Quality Concerns, and Important Criteria for Crude Selection.
---

---
Lotos receives first shipment of Canadian crude. 2017-09-21
Poland's second-largest refiner said on Sept 4 that it had received a 100K-mt (almost 700K bbl) cargo of Hibernia crude from Canada. Lotos said that it was "in...

Indigenous groups blocking Vaca Muerta wells, Dow wants to pull out. 2017-09-21
Indigenous Mapuche communities have cut off access to 14 wells in the Loma de la Lata field in the Vaca Muerta shale play since the beginning of...

---
Heavy crude OSPs are set lower for second straight month in July. 2017-07-18
Official Selling Prices (OSPs) for select heavy grades fell in July, set lower for the second month in a row but the declines were not as steep as were seen for the June prices. The Arabian Heavy...
Complete list of OCMS topics:
What's in your crudes?
(Part 1: non-metals and Part 2: metals)
Do you have the right stuff (crude cuts)? (Part 1: Crude Selection; Part 2: Crude Assays, Blend Recipes & Blending Strategies)
We are not compatible
Crude blending 101: assay and simulation
Look-alike vs dumbbell crudes
A lot of problems: fouling and corrosion
You are corrosive: naphthenic acids, high TAN crudes
Don't take it lightly: challenges in processing LTO
Getting heavy: Concarbon, asphaltenes
What about BoB (Bottom of the Barrel)?
Taking care of the bottoms
Mismatch: crudes and refinery configuration.
Sign up today by clicking here
---

In order to reduce fuel oil, natural gas, and fuel gas consumption along with a reduction in CO2 emissions, some refiners are
...
Read more
Futures prices
---
Prices below are settled prices at the end of yesterday or last trading day

US coking, cracking margins pull back in May. 2017-07-18
Coking and cracking margins on the Gulf Coast and in the Midcontinent dipped in May. The declines on the Gulf Coast followed two months of slight or moderate...
White papers
A keynote presentation by Guy Caruso of CSIS.
---
Market Insights
Even as OPEC reported that its members had achieved their targets, the group saw trouble on the horizon in light of rising stock inventories not only in the US, but also in Europe....
Read more
---
Trends and Statistics
Oil futures prices ended down during the first half of 2017, which also happened to be the six-month period for OPEC's initial deal...Read more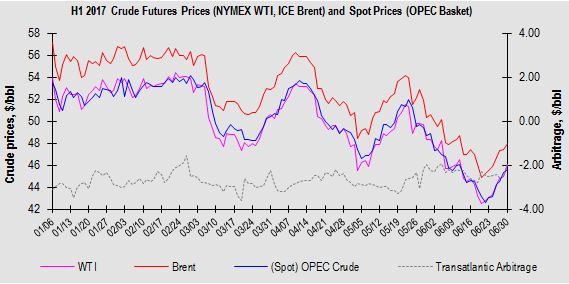 ---